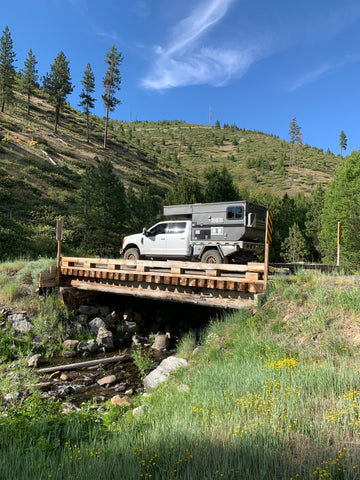 We ordered our 2019 Hawk flatbed and tray at Overland Expo West (May '19) and had it installed just four short months later. Times have definitely changed since then and wait times easily surpass 12 months in 2021. So it seems like a good time to put it out there for someone else to enjoy.
We've been incredibly happy with the camper and wouldn't hesitate to make the same decision if we had to do it over again. However, we're preparing to travel abroad and have decided not to take our truck / camper with us. And, like our Patriot X1GT we don't want to just leave it sitting in storage collecting dust while we're away. We can always buy a replacement when we return to North America. 
 At a Glance
| | |
| --- | --- |
| Year |  2019 |
| Exterior Color | Metallic Charcoal (Smooth Aluminum) |
| Cabinet Pkg | Silver Spur |
| Fabric | Peyton Granite |
| Water Capacity (Gal)  | 20 / 6 - Tank + Water Heater |
| Propane | 11LB Tank x2 |
 
Factory Options:
Mechanical Camper Jacks
Aluminum Jack Bracket Upgrade
85 Liter 2 Way Fridge
Forced Air Furnace
Powered Vent Fan (Rear)
Vent (Above Bed)
Yakima (Tracks Only) on Roof
Sidewalk Steps
Rear Floodlights
Thermal Pack
Flush Mount Glass Sink and Stove Upgrade
DSI Hot Water 
Exterior Shower
Indoor Shower
MPPT Charge Controller
Tier 1 Fabric Upgrade
Silver Spur (Interior Only)
Smooth Aluminum Siding
Rear Ute Rack (Rack Only)

Aftermarket Upgrades
Removed Overland Solar - Added Victron:
Replaced OE Blue Sea / Overland Solar Components with Victron MPPT Charge Controller, Shunted Monitor, and Lithium Battery Charger.
Also installed a 1000 watt Cotek Inverter inside of the cabinet closest to the entry door.
Batteries:
Replaced FWC factory battery with two 100 AH Battleborn Lithium Batteries
Solar:
Installed one Zamp 170 Watt Solar Panel. 
Fuel:
Two Black Wavian 20L Jerry Cans in AT Overland Aluminum Jerry Can Holders
Recovery Gear:
(4) Maxtrax Recovery Boards (OD Green) and Mounting Pins
Misc Upgrades and Add-ins:
Between the cab and overhang we installed a Eeziawn Stainless Steel Folding Table that hangs from an Eeziawn table mounting bracket kit.
To easier remove the camper we bought a two sets (4 brackets) of Mule Expedition Outfitters jack bracket extensions. 
We swapped the OE FWC sink sprayer style "shower head" for a GROHE shower wand.
To boost cell phone reception we added a weBoost cell phone signal booster. 
Options we Skipped and Why… 
The huge bed option. We often get asked why we didn't go with the larger bed. The biggest reason is that it seems to make accessing the bed much more difficult. When extended the larger bed extends all the way to the door jamb. We don't use ours in it's extended position but even if we did we'd still have an easy path to access the over cab bed.
Speaking of the bed… we didn't sleep on it for about 98% of the time we've used the camper. We pulled the mattress and replaced it with two Exped air mattresses… sort of like a sleep number bed. The mattress went into a relatives heated / finished attic and was just recently reunited with the camper. 
Next… the big cassette toilet. There are times it would be nice. But there are others where the cassette toilet is less than ideal. First, it eliminates the flip up pantry next to the door. Second, if it ever breaks it's a much more complex operation to remedy than Amazon's overnight shipping to replace a smaller one. Third, future owners probably wouldn't want a dirty used plastic toilet. Finally, you can't set up a shower tent as a little outhouse. Which is a very popular option for those sharing your camper.
Instead of the optional stairs we use our Norweld flatbed tray's optional stirrup and an Alubox with a Goose Gear top plate to get in and out of the camper. It can be a little trickier than stairs at times, but the stirrup caused at least one border agent decided to "limit" her inspection.
What about the removable carpet? We'll, we bought a couple of colorful little rugs off of Amazon for about $30 each. And, we also thought about getting a custom woven vinyl mat made before placing our order. 
The window cushion? We bought pillow from World Market that's pretty close to a perfect fit. It was pretty affordable.
The really big fridge? Sometimes we wish we had it… but the second largest is pretty nice. And the drawer that has to be deleted to make room for the huge fridge is a really nice spot to put coffee, a fry pan, etc.